Our CEO and co-founder Michael Ebner featured in this month's Spotlight Series of the Royal Academy of Engineering (RAEng) Enterprise Hub about Hypervision Surgical. Read the original story here, including further information about the RAEng Enterprise Fellowships programme here.
---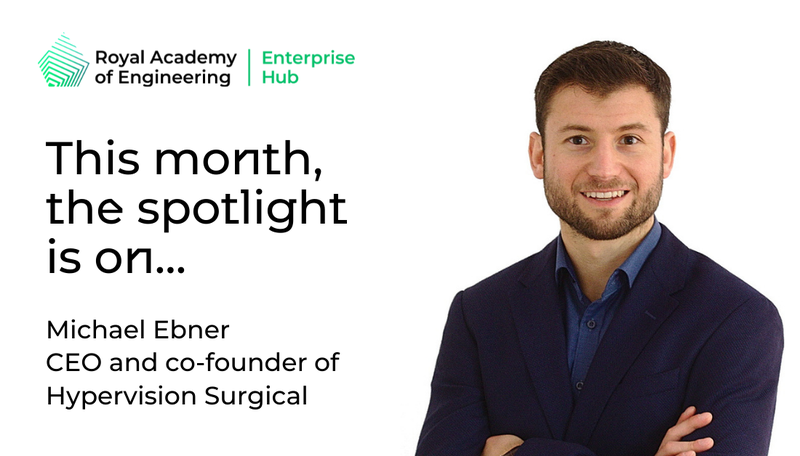 Hub Member and Enterprise Fellowships alumnus Michael Ebner is the CEO and co-founder of Hypervision Surgical. With a background in applied mathematics and a particular focus on medical imaging, he has worked closely with clinicians to develop technology that is now being used for disease diagnosis and surgical management. Hypervision Surgical aim to commercialise their next-generation imaging technology for surgery to improve patient outcomes.
In your own words what is Hypervision Surgical?
Many of us know of someone whose surgery didn't go as planned, whether it's a surgical complication or that they require repeat procedures. For them, life will never be the same again. One of the reasons for this is because patient outcomes heavily rely on what a surgeon can see during surgery. At Hypervision Surgical, we aim to provide information to the surgeon that is invisible to the human eye but critical to making better decisions for the patient.
Engineering is all about solving problems. What problem is your innovation solving?
Intraoperative decision-making is very complex. Based on what they see during surgery, surgeons often rely on subjective judgement to make decisions with potentially life-changing consequences for the patient. Our goal is to remove the guesswork from surgery by providing surgeons with precise measurements and tissue property information to differentiate between healthy and unhealthy tissue during surgery reliably. This will help surgeons make decisions with increased confidence and surgical precision, and ultimately improve patient outcomes.
What makes your innovation ground-breaking? Can you explain to our readers/the public how it works?
Our technology lets you go beyond the conventional three colours of red, green and blue that we can see with our naked eye. Modern (hyperspectral imaging) cameras can capture hundreds of spectral sub-bands. Using advanced computer-assisted analysis (such as AI), we can analyse this complex spectral data to obtain critical structure information – so if you apply this to human tissue, it can provide "super-human" vision for the surgeon, by understanding what an optical fingerprint of healthy tissue looks like compared to unhealthy tissue.
What was the moment that made you think "I can turn this into a commercial opportunity"?
As a scientist by background, I have always been intrigued by the opportunity technology presents for surgery. However, my experience in translational research led me to realise that few promising technologies reach the clinic. Once we successfully tested our university prototype system in an in-patient study in Zurich, I saw first-hand how surgeons could see its potential too.
Wading into unknown territory can be unsettling – what were you most excited by and what was most challenging for you when starting out?
Starting out as a first-time entrepreneur means that every experience is new. Being constantly outside of your comfort zone is very challenging as it requires you to adapt and progress quickly. However, it also provides ample opportunity to learn more about yourself and what it takes to develop and commercialise a medical technology for surgery. Moreover, working with an outstanding team and highly experienced MedTech entrepreneurs, advisors, and mentors is genuinely inspiring.
Can you share a time when failure mattered in your business journey?
In the run-up to a pre-clinical study, we performed an experiment to stress-test our technology and evaluate its readiness. The outcome was pretty sobering as we couldn't deliver on our expectations. We had about six weeks left to turn things around and get ready for the pre-clinical study. Knowing its vital importance, our team stood together, and we were able to deliver: We captured our first set of data and gathered clinical evidence of our technology leading to crucial clinical and early commercial traction.
How did you go about building your team and finding your first team members?
Being embedded in the King's MedTech ecosystem, we were able to secure crucial grants from the Enterprise Hub, Innovate UK, and NIHR to pull together a fantastic clinical and technical team primarily from within this environment. To build our team on the regulatory and commercial sides, we have leveraged introductions from our networks. The Enterprise Hub and its mentors had a vital role in this for us.
What has been the most surprising aspect about your entrepreneurial journey?
I had not expected the entrepreneurial journey to be so exhilarating. For example, you may have extraordinarily wonderful and disappointing experiences within the same day. It can really be a rollercoaster! Going through this journey is incredibly gratifying though, especially with the right team.
What impact has the Enterprise Fellowships programme had on your business? What are the most valuable lessons you've learnt?
Our company was born during the COVID-19 pandemic, and the Enterprise Fellowships programme was critical to helping us stand out in such an uncertain environment. I believe a crucial element to entrepreneurial success is to learn from people who have successfully gone through this journey before. The Enterprise Hub provided a great network to reach out to many experienced people and enabled us to join a genuinely inspiring, supportive, and generous community. Besides the critical management skills I could acquire as part of this programme, the collaborative relationship with my mentors and advisors has substantially impacted the trajectory of our company's progress to date.
And finally, have you got any tips for potential applicants?
Working yourself through the application is a difficult process, but bear in mind: The Enterprise Hub wants you to succeed in creating a truly disruptive company. Therefore, the application requires you to carefully think through the problems you are likely to encounter and finding answers to them is not always easy. Building a company is highly rewarding but can be challenging and lonely at times, so make sure you have the right (founding) team and support network to start this journey. Finally, enjoy the process! You will learn a lot, and you may never want to look back again.
---
Quick Fire Questions
Who is your role model?
I am very fortunate to work with truly inspiring mentors, each one being my role model in its own right.
Tell us a random fact not many people know about you
I can fall asleep everywhere I sit down.
What's your guilty pleasure?
A box of Bahlsen Praline Squares. I better not share how often that happens.
When I was a child, I wanted to be…
much taller! I probably still do.
I am currently binging [tv show] on Netflix/Prime…
No time for binge-watching!
Best piece of advice you've ever received?
Find what you are passionate about.
Conversely, what has been the worst piece of advice?
That one should be selfish. I believe best outcomes are achieved for everyone by enabling each other.
I don't understand why…
the global order can still be dictated by single individuals.
Who would you invite to your dream dinner party?
Barack Obama, Sam Harris, Angela Merkel, and (the) Queen – perhaps not all at the same dinner party though.
If you were an investor, which Hub Member would you invest in?
The one who inspires most of the other members to be successful!
Is there something you know now that you wish someone had told you when you started?
I still chuckle about what I heard from an experienced MedTech CEO when I started out: "Don't do it. Starting a company is hell lot of work. But if you don't want to listen, I suggest you do the following …" I shall happily pass this on to others.
If you had to start all over again, would you do anything differently? If so, what?
Nah, every journey needs a few ups and downs!