Hypervision Surgical graduated from the 2021/2022 Health stream of the Creative Destruction Lab (CDL) programme at the University of Oxford's Saïd Business School as 1 of only 8 companies and was selected as the single company to represent CDL-Oxford in the CDL Super Session on 23 June 2022.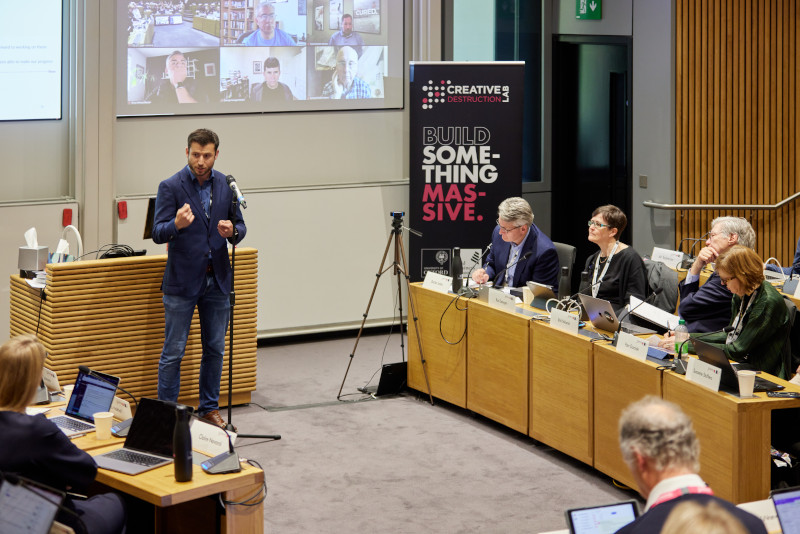 Creative Destruction Lab (CDL) is a non-profit organisation that delivers an objectives-based programme for massively scalable, seed-stage, science- and technology-based companies.
CDL's programme consists of a highly competitive process where participating ventures are assessed against their performance on ambitious objectives set by the CDL community every eight weeks. Only by successfully passing each session a company continues to receive dedicated support from CDL's world-class network of exited entrepreneurs, angel investors, and partners from leading venture capital firms.
CDL reviews a few hundred companies per year and admits 20 companies. Hypervision Surgical is among 8 ventures in the latest cohort to graduate. Following this 9-month programme, Hypervision Surgical has had the unique opportunity to learn from a wealth of experience of CDL mentors and its community to deliver on ambitious milestones that are critical towards bringing their high-potential technology for improved surgical care to market.
Following the fourth and final session, CDL mentors of each of the 10 CDL Sites (CDL-Toronto, CDL-Oxford, CDL-Paris, CDL-Seattle, CDL-Atlanta, CDL-Wisconsin, CDL-Atlantic, CDL-Montreal, CDL-Rockies, CDL-Vancouver) chose a single company for representation at the CDL Super Session – CDL's annual showcase of graduating early-stage tech companies.
Hypervision Surgical was selected as the single venture to represent CDL-Oxford Health on 23 June 2022.
On behalf of Hypervision Surgical, I am incredibly grateful to our mentors and the wider CDL community for their support over the past year. Because of the close mentorship of highly experienced entrepreneurs, Hypervision Surgical has made vital progress toward bringing its technology to market for patient benefit. CDL has contributed significantly to this, and it's indeed humbling to represent CDL-Oxford as part of CDL's annual showcase.

— Dr Michael Ebner, CEO & Co-Founder of Hypervision Surgical
---
About the Creative Destruction Lab (CDL)
CDL is a seed-stage program for massively scalable, science- and technology-driven startups. The program takes no equity and charges no fees - it is funded through philanthropy. At the core of the program is a series of four intensive, full-day summit meetings where founders meet with a curated group of super-angels, successful tech entrepreneurs, and star scientists to set short-term objectives and raise capital. CDL's sweet spot is working with founders at the pre-seed, seed, or Series A stage. The 11th annual cohort runs from September 2022 to June 2023. More information on what the programme offers and the criterion can be found here. The deadline to apply is July 30.