The four co-founders of Hypervison Surgical, a King's College London spin-out company, have been awarded the Cutlers' Surgical Prize for outstanding work in the field of instrumentation, innovation and technical development.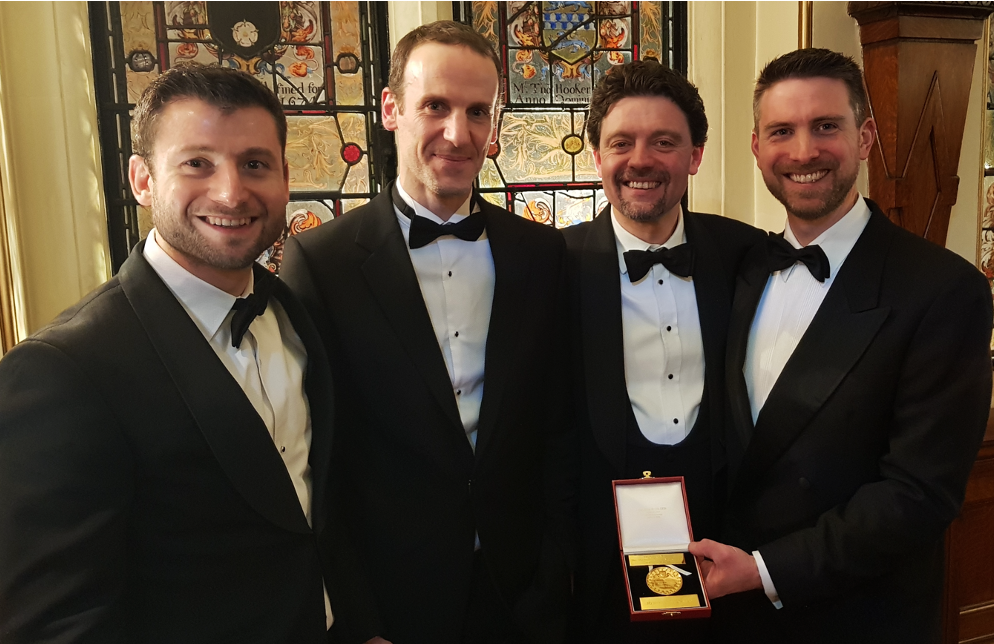 The Cutlers' Surgical Prize is one of the most prestigious annual prizes for original innovation in the design or application of surgical instruments, equipment or practice to improve the health and recovery of surgical patients.
The prize was awarded for the team's work on HyperSnap, a hyperspectral imaging system designed to improve surgical precision and patient safety during surgery.
The HyperSnap system is a compact, lightweight, Artificial Intelligence (AI)-powered hyperspectral imaging camera system that enables contact-free and contrast-agent-free tissue characterisation to provide real-time surgical guidance.
At Hypervision Surgical, we are deeply committed to driving advancements in surgery through cutting-edge technology and advanced surgical vision. Winning this prestigious prize is a testament to our unwavering dedication to improving patient outcomes and transforming the future of surgery. We are thrilled and honoured to receive this recognition.

— Dr Michael Ebner, CEO of Hypervision Surgical
I am proud and honoured to see Hypervision Surgical recognized by this highly prestigious award. Hypervision Surgical is one of the first spin-outs from our St Thomas' MedTech Hub, and to see how it is already garnering awards of this calibre is a testament to the ecosystem we have developed at King's.

— Professor Sebastien Ourselin, Head of School of Biomedical Engineering & Imaging Sciences (BMEIS) and Non-Executive Director, Hypervision Surgical
Hypervision Surgical were recommended for the prize by The Royal College of Surgeons, who make recommendations every year to the Worshipful Company of Cutlers.
The Worshipful Company of Cutlers has a long connection with the manufacture of surgical instruments and for the last one hundred years has maintained its interest by fostering apprenticeships in the surgical instrument-making industry.
Hypervision Surgical oversees the development of an interventional hyperspectral imaging system that seamlessly integrates into the surgical workflow to provide real-time tissue information during surgery currently invisible to the human eye.
Using safe light and Artificial Intelligence, their system distinguishes between tissues, such as cancerous and non-cancerous tissue, in addition to providing quantitative information for blood perfusion and tissue oxygenation.
In collaboration with King's College London and King's Health Partners hospitals, Hypervision Surgical's technology is currently involved in clinical evaluation studies for colorectal and neurosurgery.
Tom Vercauteren, Professor of Interventional Image Computing at the School of Biomedical Engineering & Imaging Sciences and Chief Scientific Officer at Hypervision Surgical said:
Hyperspectral imaging captures tissue characteristics that are invisible to the naked eye. Our artificial intelligence based algorithms allows us to reveal information which will help guide surgeons and support them in making better informed decision in real-time to improve patient outcomes. It is truly an honour to receive the Cutler's prize at the time when our technology makes the transition from the research labs to the operating theatre through Hypervision Surgical, our spin-out company

— Professor Tom Vercauteren, CSO of Hypervision Surgical
Jonathan Shapey, Consultant Neurosurgeon, Senior Clinical Lecturer and Clinical Lead at Hypervision Surgical said:
It is a great honour to be awarded the prestigious Cutlers' Surgical Prize for Surgical Innovation. Our technology will benefit patients by supporting surgeons to perform safer, more precise surgery by providing real-time tissue characterisation that is currently invisible to the surgeon.

— Mr Jonathan Shapey, Clinical Lead of Hypervision Surgical
The award presentation was made at a dinner at Cutler's Hall, London, with the winning team receiving an elegant mounted Victorian silver-gilt medal and an award of £5,000.
---
The story was initially published by King's College London, School of Biomedical Engineering & Imaging Sciences, 2023 here.